Accomplice - (2020) - Netflix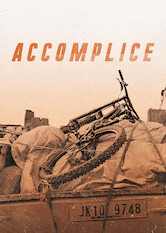 How To Unblock Every Movie & TV Show on Netflix No Matter Where You Are
52m -
Canadian Films
Traverse the globe with the world's top riders as they pedal through rugged terrain and majestic locations in this visual homage to the bicycle.
Director:

Jeremy Grant

Cast:

Kurt Sorge

,

Tom Van Steenbergen

,

Cameron Zink

,

Graham Agassiz

,

Tyler McCaul

,

Cameron McCaul

,

Ethan Nell

,

Hannah Bergemann

,

Carson Storch

,

Brandon Semenuk

,

Veronique Sandler

,

Nico Vink

,

Garett Buehler

,

Jaxson Riddle

,

Andreu Lacondeguy

,

Paul Genovese

,

Paul Basagoitia

Netflix Rating:

5.4/5
Rotten Tomatoes Score:
0/100
Countries Available in:

Not available where you live? Learn how to unblock Netflix & watch this title.

Available Since:
2021-01-27
Similar Titles:

Synopsis
Private detective Simon Lash and his assistant Eddie Slocum are hired by Joyce Bonniwell to find her missing husband Jim Bonniwell. They learn from Mr. Springer president of the bank where Bonniwell worked that a woman named Evelyn Price is mixed up in the case. Following up on a call from Sheriff Rucker Joyce and Simon go to Palmdale and Joyce identifies the body of a murdered man as her husband. Simon following up the lead of the mysterious woman goes to Mesa New Mexico and finds the mystery woman to be Joyce and her husband very much alive.
Other Titles Being Viewed Right Now