Hunt to Kill - (2010) - Netflix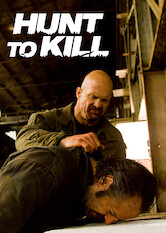 1h37m -
International Movies
How To Unblock Every Movie & TV Show on Netflix No Matter Where You Are
1h37m -
International Movies
U.S. Border Patrol agent and deadly hunter Jim Rhodes takes violent revenge when a group of desperate thieves kidnaps his daughter after a robbery.
Director:

Keoni Waxman

Cast:

Donnelly Rhodes

,

Michael Eklund

,

Michael Hogan

,

Gil Bellows

,

Steve Austin

,

Eric Roberts

,

Marie Avgeropoulos

,

Emilie Ullerup

,

Gary Daniels

,

Adrian Holmes

Netflix Rating:

5.2/5
Rotten Tomatoes Score:
0/100
Countries Available in:

Not available where you live? Learn how to unblock Netflix & watch this title.

Available Since:
2020-01-01
Trailer:
Similar Titles:

Synopsis
Steve Austin stars as U.S. Border Patrol agent Jim Rhodes, a tough divorce mourning the loss of his murdered partner while struggling to raise his rebellious daughter in the mountains of Montana. But when a crew of trigger-happy fugitives takes Rhodes and his daughter hostage, a rugged wilderness will explode in all-terrain vengeance. Is there any wounded animal more dangerous than a lawman left for dead?
Other Titles Being Viewed Right Now