The Twins Effect II - (2004) - Netflix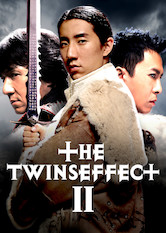 How To Unblock Every Movie & TV Show on Netflix No Matter Where You Are
1h45m -
Chinese Movies
An empress rules over a land where men are subservient to women. But a prophecy reveals that a boy will become king and restore the male regime.
Director:

Cory Yuen

,

Corey Yuen

,

Patrick Leung

Cast:

Jaycee Chan

,

Donnie Yen

,

Daniel Wu

,

Tony Leung Ka Fai

,

Gillian Chung

,

Edison Chen

,

Qu Ying

,

Fan Bing-bing

,

Charlene Choi

,

Jackie Chan

,

Ying Qu

Netflix Rating:

5.0/5
Rotten Tomatoes Score:
0/100
Countries Available in:

Not available where you live? Learn how to unblock Netflix & watch this title.

Available Since:
2019-06-22
Trailer:
Similar Titles:

Synopsis
A cruel empress, a place where men are subservient to women. The empress' reign is disturbed by a prophecy saying a boy will rise to become king, and restore the male regime. Char, a humble boy, is born to be emperor. He and his adopted brother, Leaf, perform in a traveling show run by their adopted father, Blackwood. Thanks to their friend, Lao, the pair receive a stone with a map engraved on it. They set out on a quest for the treasure that the map is supposed to reveal. Two lovely yet lethal female warriors, Blue and Spring, join the boys on their journey. The youngsters encounter various challenges before they meet General Lone, a master swordsman who seeks to overthrow the empire. To do so he must first duel the Lord Of Armour.
Other Titles Being Viewed Right Now