The Great Race - (1965) - Netflix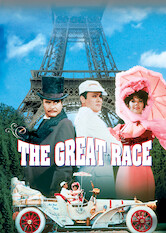 How To Unblock Every Movie & TV Show on Netflix No Matter Where You Are
2h32m -
Classic Movies
A charming daredevil challenges his wicked archrival and other quirky drivers to a wacky transcontinental road race at the turn of the 20th century.
Director:

Blake Edwards

Cast:

Jack Lemmon

,

Tony Curtis

,

Natalie Wood

,

Peter Falk

,

Keenan Wynn

,

Arthur O'Connell

,

Vivian Vance

,

Dorothy Provine

Netflix Rating:

7.3/5
Rotten Tomatoes Score:
0/100
Countries Available in:

Not available where you live? Learn how to unblock Netflix & watch this title.

Available Since:
2021-02-01
Trailer:
Similar Titles:

Synopsis
Professional daredevil and white-suited hero The Great Leslie convinces turn-of-the-century auto makers that a race from New York to Paris (westward across America the Bering Straight and Russia) will help to promote automobile sales. Leslie's arch-rival the mustached and black-attired Professor Fate vows to beat Leslie to the finish line in a car of Fate's own invention. The Blake Edwards style of slapstick and song originated with this movie. A dedication to Laurel and Hardy appears at the beginning of the film. Edwards' tribute to Stan and Ollie can be seen most clearly in the interaction between Professor Fate and his cohort Max as well as in the operatic Pottsdorf pie fight.
Other Titles Being Viewed Right Now